When recovering from addiction, your body and emotions are facing a lot of changes and a significant amount of discomfort. While you may know that making the step towards recovery is by far the best thing you can do for your future, you may be wondering what type of treatment to seek. At Northern Illinois Recovery, we offer a comprehensive set of treatment options, including holistic treatment such as our yoga therapy program.
Is Yoga Beneficial to Drug and Alcohol Treatment?
We provide a wide range of treatment programs. Many times, this begins with our evidence-based addiction treatment in Northern IL. This is the type of care that is understood within addiction recovery to be effective. Yet, many of our patients benefit from addiction care through holistic methods. This is why our yoga therapy program may be a good fit for your needs.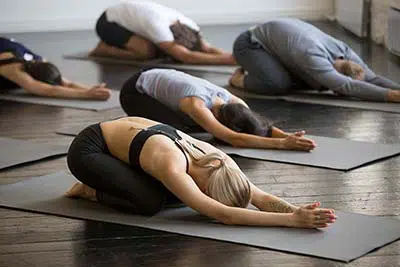 How can a yoga therapy program really help you? While it is not a first-line treatment, yoga is a very good tool for helping the body and mind recovery from the intense changes it has been under during your alcohol or drug use. More so, when you remove those chemicals from your body, you'll begin to see just how much support your body needs to get back to being the best version of yourself. Our yoga therapy program helps to make that possible.
What can a yoga therapy program add to your recovery? It may help you with:
Stress reduction
Pain relief
Improved ability to sleep
Increased physical stamina and overall health
Improved physical strength
More self-confidence
Self-awareness
Better energy levels
Emotional health
You may find that yoga can actually help ensure that you feel good during your recovery. Our team at Northern Illinois Recovery will help you determine if this is the right level of care for your needs.
When Can Yoga Be Used?
You can use our yoga therapy program alongside many of the other treatment options available to you. This includes:
Our yoga therapy program is also available for all levels of care. This includes our partial hospitalization program, intensive outpatient program, inpatient treatment, and outpatient treatment.
Healing Your Mind and Body
When you enroll in our yoga therapy program in Northern IL, you provide yourself with an opportunity to heal. Much of that healing comes from removing the toxins in your body brought in through drug or alcohol use. Yet, most people have suffered significantly while on those drugs.
You didn't sleep or eat well while you were using. Many people also don't live in a healthy situation. Others faced stress and trauma in incredibly challenging ways. Within our yoga therapy program is an opportunity to allow yourself to heal from the emotional turmoil while you also work on the physical needs of your body. It is this unique combination of care that can help to transform your future.
Seek Out the Care Right for You
Whether you enroll in our yoga therapy program in Northern IL or not, our team is dedicated to your full recovery. When you come in to see us, you'll be given a full evaluation and exam to determine what needs you may have. We'll then help you to choose the types of therapies you desire while offering a customized treatment plan for you. Often, our yoga therapy program is a part of that, along with our other holistic treatment options.
Take a moment to realize that you can recover. Many people just need to take that first step towards finding the right location to get the care they need. We are here to do that for you.
Explore the Opportunities for Addiction Treatment with Us
At Northern Illinois Recovery, we're close to you – you don't have to drive into Chicago to get access to the very best care. We're also committed to providing you with the highest quality of care in an affordable manner. If you are thinking about the benefits of a yoga therapy program, and how well it may fit your needs, we encourage you to give us a call.
If you or a loved one needs addiction treatment, contact Northern Illinois Recovery today at 855.786.1978 for immediate help.