Therapy Services at Northern Illinois Recovery
Addiction therapy services offer myriad efficient strategies and measures to treat patients. One in 5 U.S. adults have a mental health condition. Finding mental health care in Illinois can be challenging, particularly in rural areas. 95% of mental health providers working in rural areas feel they can't meet the needs of their patients. Over 90% of the nation's psychiatrists practice in urban or suburban areas, with roughly 60% of all rural counties lacking even one practicing psychiatrist.
In Illinois, nearly 80% of drug overdose deaths involved opioids in 2018. With so many people struggling with addiction, the need for addiction therapy services has never been so obvious. Roughly 3.21% of adults in Illinois live with serious mental health conditions such as schizophrenia, bipolar disorder, and major depression. In fact, 44.6% of adults with mental illness in Illinois receive any form of treatment from either the public system or private providers.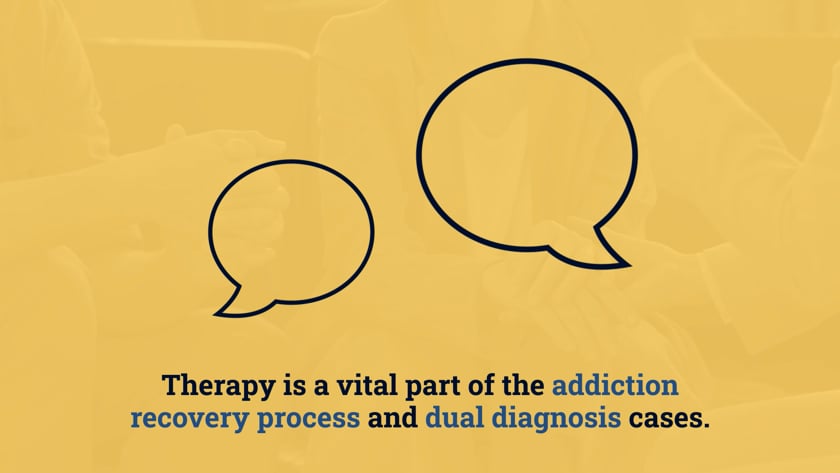 Why Are Addiction Therapy Services Integral Toward Recovery?
Addiction therapy services are integral toward recovery because addiction is a complex disease. Considering how the reward centers of the brain are manipulated by substances and behaviors, addiction therapy services aim to rewrite these pathways in order for long-lasting change. The stressors of life and triggering circumstances can invade your mind, causing more complications.
Addiction therapy services such as counseling can enable discoveries about yourself and ways to integrate healthy coping skills. Many recovering individuals struggle to maintain motivation after an initial detox. The physical and mental strain of the withdrawal symptoms and malnourishment can affect a person's recovery.
After treatment, a recovering individual must be prepared to deal with the challenges ahead. Addiction therapy services can guide you through this trauma and other challenges. Psychotherapy is a main staple of addiction recovery services. There is no single cure for addiction; however, it is treatable. With a combination of medications, psychotherapy, and support system, your chances of recovery significantly improve.
Primary Addiction Therapy Services
You participate in many kinds of addiction therapy services during rehab, such as:
Cognitive Behavioral Therapy
Individual Therapy
Group Therapy
Family Therapy
Dual Diagnosis Therapy
Relapse Prevention
Peer Support
Yoga Therapy
Our addiction treatment staff layer these therapies in rehab so that you get a deep well of methods, strategies, and tactics for changing your life as well as maintaining your recovery. Psychotherapy plays a significant role in the development of your addiction recovery.
Initial Addiction Therapy Services
Before entering into primary addiction therapy services, such as outpatient rehab, many people need the initial addiction therapy services of a detox program. Detox programs help you with withdrawal management.
Withdrawal symptoms can range from mild to intense and may include:
Nausea
Tremors
Fever
Muscle Aches
Intense cravings
Insomnia
Depression
While these symptoms will make you deeply uncomfortable, they aren't dangerous on their own. The real challenge with these withdrawal symptoms is that they make people relapse during unmonitored, at-home attempts at detox. People then start using again just to put a stop to the withdrawal symptoms.
A detox program can use medications that help limit the intensity of your withdrawal symptoms. That helps prevent a relapse where a person just wants to escape those symptoms.
For alcohol and benzodiazepines, however, attempting unmonitored, at-home detox is dangerous. Alcohol withdrawal can cause delirium tremens, which can lead to seizures or death. Benzodiazepine withdrawal can also lead to fatal grand mal seizures. The substance abuse treatment programs Northern Illinois Recovery Center employs use prescription medications to prevent these fatal outcomes.
Medication-Assisted Treatment
Unlike most drug dependencies, opioid addiction doesn't respond well to the traditional treatment model of detox-rehab-peer support groups. The relapse rate is very high, and the overdose crisis from opioids is well-documented in the news.
Medications like buprenorphine and naltrexone provide an alternative that has shown excellent results. In essence, these medications let someone with opioid dependence feel normal without giving them the euphoria of an opioid high. In most cases, medication-assisted treatment begins during detox and doctors monitor the patient's doses during and after rehab.
Discover Treatment at Northern Illinois Recovery Center
Northern Illinois Recovery, located in Crystal Lake, Illinois, provides addiction therapy services for Chicago suburb residents. Drug or alcohol addiction can take a horrific toll on your family relationships, health, as well as your professional life. Getting help in a quality drug rehab program can help you put an end to all of that damage your addiction causes. Contact Northern Illinois Recovery today to learn what we can do to help.