Intensive Outpatient Program For Substance Abuse in Illinois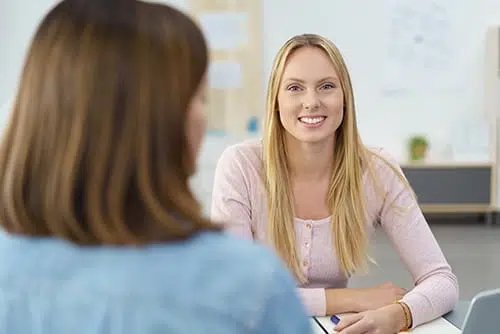 For a variety of reasons, residential addiction treatment is not always the best choice. As one should expect, the right treatment options depend on the client's personal circumstances. Most of the time, addiction treatment center staff will try to prescribe the least intrusive treatment option possible.
If the client's addiction profile indicates intensive outpatient substance ause treatment would be best, that will be the most likely choice. Our intensive outpatient program helps patients develop the coping skills they need without making them choose between sobriety and commitments.
What is an Intensive Outpatient Program?
An intensive outpatient program (IOP) is a more structured version of outpatient programs. The staff at substance abuse treatment facilities will usually prescribe this option for clients with a significant addiction, but certain limitations make residential treatment too intrusive.
A traditional outpatient treatment program allows the client to report to the facility for counseling sessions regularly. This might encompass 2-3 appointments a week for a couple of hours at a time. If the client is compliant and shows good progress, then they can continue with this treatment option. An IOP may add more structure to an individual's recovery journey.
IOP Mental Health Services for Co-Occurring Disorders
During treatment, the client will participate in both individual and group therapy sessions. The work will have the same goals. Clients will learn about the nuances of their addiction and how to avoid relapses in the future.
As substance abuse and mental health disorders often occur at the same time, therapy is crucial to long-term recovery. When someone suffers from mental illness and addiction, it's known as a co-occurring disorder. Other names include a dual diagnosis or comorbidity. Our intensive outpatient rehab can help clients combat some of the following behavioral health issues:
Intensive outpatient treatment can help manage other mental illnesses as well, but serious cases often require a higher level of care. People with bipolar disorder or schizophrenia need medication management and constant supervision at the start of treatment. Though an IOP may be a suitable option after people with serious mental illnesses complete residential treatment. IOPs can also help cope with other behavioral health issues, like anger management. These types of programs can be highly effective against behavioral health issues that don't require serious medication management.

Intensive Outpatient Substance Abuse Treatment Expectations
As part of our IOP, Northern Illinois Recovery puts strict requirements on the client. While they still get to reside at home, they have to spend a significant time working with counselors in-house. Typical intensive outpatient treatment might require the client to submit to 6-8 hours of intensive therapy 5-7 days a week. The exact numbers will depend on the depth of the client's addiction.
The requirements for this type of program are simple. The client has to stay sober, meet all scheduled appointments and show good progress. In cases where individuals are unable to abide by these rules, a more intensive program may be necessary. This might mean individuals may need to consider residential treatment instead.
How Long Does IOP for Drug and Alcohol Addiction Last?
Traditional outpatient programs usually last 30 to 90 days. Since each case is different and progress isn't always linear, clients may be in an IOP for just a few weeks to a full year. Every addiction treatment facility is different in how long an IOP lasts, so it's a good idea to check with the facility beforehand.
Is an IOP for Substance Abuse Right for Me?
IOPs for alcohol and substance abuse can be a potent form of treatment for many people in Illinois. Before deciding on an IOP, though, it's important to consider whether it's the right program or not. For instance, is it someone's first time attending addiction treatment? Is this person's addiction life-threatening? What about an initial detox?
Life-threatening addictions need aggressive medical attention. That isn't something that an IOP can provide around the clock. Trying to jump into outpatient care before detox or inpatient care for those suffering from a severe substance use disorder can be dangerous. Also, people who have had a relapse after already attending an IOP in the past should consider another program.
Insurance Coverage and IOPs
Another factor to think about before choosing an addiction treatment program in Illinois is whether or not insurance will cover it. It's true that insurance providers must treat addiction like any other physical health issue.
That doesn't mean that they will provide enough coverage to help you pay for outpatient care. Our recovery center can help you verify your insurance to make sure that an IOP makes sense for your budget.
Why Choose Intensive Outpatient Substance Abuse Treatment?
As part of our IOP Northern Illinois treatment, we offer said option to clients with specific needs. Most of the time, we prefer they go through residential treatment for the highest level of care. When that's not possible, IOP can be a viable option.
Of course, there are several viable reasons why we offer intensive outpatient treatment at our addiction treatment center. There are a number of reasons why clients prefer this option:
Financial obligations that require the client to keep working
Primary care responsibilities for a child or elderly parent
Affordability (less expensive than residential treatment)
Follow-up to a residential treatment program
Work or school responsibilities
Across all our programs, including our intensive outpatient program for substance abuse, clients can take advantage of numerous therapies to address their specific needs. We offer therapies such as:
In family therapy, family members learn how to help their loved ones overcome addiction without enabling them. This type of therapy can be powerful in tandem with holistic treatment (e.g. yoga therapy) and traditional psychotherapy (CBT and DBT).
Our large selection of therapies makes it easier to help clients find what works best for them. Treatment can always be adjusted as an IOP continues.
Types of Addictions Treated in Intensive Outpatient Programs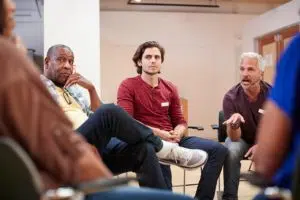 Intensive outpatient rehab can help clients choose sobriety over drug abuse, even with some of the most addictive drugs. For drugs like opioids, it's a better option in most cases to opt for inpatient treatment. That said, the inability to stay at a facility shouldn't stop people from getting the help they need.
Since over 5,000 people pass away from alcohol or drugs in Illinois, it's better to get help than get none at all. Certain substances have a stronger threat in Northern Illinois, contributing to a large chunk of this statistic.
Alcohol IOP
Despite overwhelming research that shows the dangers of drinking, people still develop alcohol use disorders. When people become addicted to alcohol it makes it almost impossible to quit drinking without experiencing physical and mental withdrawal. After managing physical withdrawal symptoms in detox, many clients attend alcohol IOP treatment.
Drug IOP: Opioids
Opioids are one of the most addictive drugs in the United States. Illinois is no exception. According to the National Institute on Drug Abuse, "nearly 80% of drug overdose deaths involved opioids in 2018".
Many people start off with prescription opioids and eventually succumb to using heroin. Because of how dangerous opioids are, it's essential to get treatment quickly. After residential treatment, an IOP can act as a bridge between getting back to normal life and continuing treatment.
Drug IOP: Methamphetamine
While opioids and alcohol present a deadly issue to those in Illinois, many people admit themselves to treatment for meth. Meth isn't as deadly but can still be difficult to quit without professional help from an addiction treatment facility.
Our intensive outpatient rehab program offers a solution for those without a severe meth addiction who can't live on-site. Clients with severe addictions should seek more intensive treatment.
Offering Top Intensive Outpatient Substance Abuse Treatment
With the country struggling to deal with an increase in addiction cases, Northern Illinois Recovery stands ready to help battle the problem. As the last line of defense, we feel it's important we maintain a full slate of treatment options, including an IOP Northern Illinois option.
This also allows our counselors and clinicians to choose and customize addiction treatment plans for each client. At the end of the day, our success depends on the ability of our clients to remain in recovery long-term. Here are of our some of our treatment programs and services:
Outpatient and intensive outpatient programs
Primary inpatient and extended (more than 90 days) inpatient programs
Aftercare programs like sober living homes
Dual diagnosis treatment
If you have an addiction to any substance but can't enroll in inpatient care, an intensive outpatient program might be the best choice for you. Addiction is a disease that claims victims every day.
We hope you can avoid being one of those victims by waking up and reaching out for help. Our counselors and clinicians at Northern Illinois Recovery Center are ready to help you when you do. We encourage you to contact us for relevant information about our detox and addiction treatment services.
Get the help you need at Northern Illinois Recovery!
Northern Illinois Recovery Addiction Treatment Center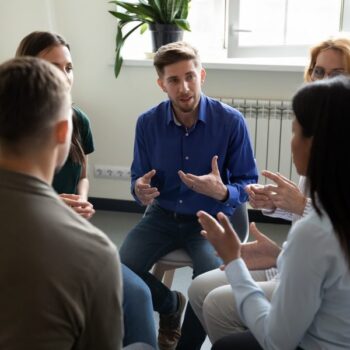 Get Help With Intensive Outpatient Program For Substance Abuse in Illinois
If you or a loved one is suffering from an addiction of any kind, whether it be a substance addiction or a behavioral addiction, contact us today.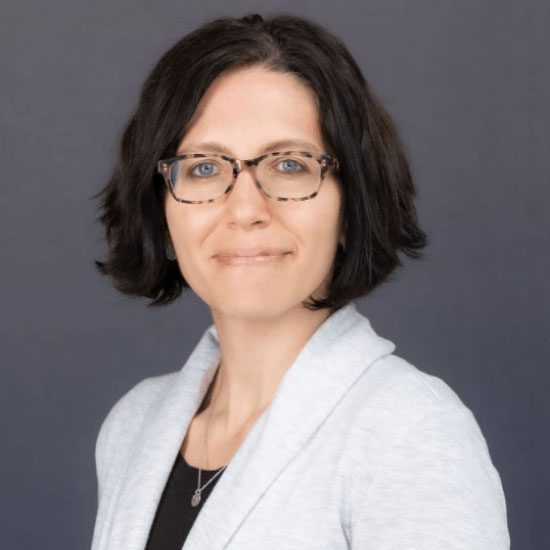 Licensed Physician and Surgeon
Dr. Beth Dunlap, a board-certified addiction medicine and family medicine physician, and is the medical director at Northern Illinois Recovery Center. She is responsible for overseeing all the integrated medical services at both campuses. Beth completed medical school, residency, and fellowship at Northwestern University, where she continues to serve on the faculty as a member of the Department of Family and Community Medicine. She has extensive experience in addiction medicine at all levels of care, and her clinical interests include integrated primary care and addiction medicine, harm reduction, and medication-assisted treatment.