Dual Diagnosis Treatment Programs in Illinois
If you or someone you know is battling a substance abuse problem, finding out how to take the first steps towards recovery and sobriety can be very difficult. Trying to quit using drugs or alcohol while dealing with a co-occurring mental health disorder is especially challenging. This leads to needing a dual diagnosis treatment program.
Mental health disorders and addiction commonly occur together, making treatment slightly more complicated. Fortunately, with the help of a dual diagnosis treatment program, both conditions can improve. This can help to increase the likelihood of long-term recovery.
Please reach out to the Northern Illinois Recovery Center in Crystal Lake, Chicago today to learn how our dual diagnosis treatment programs can support your recovery.
What Does it Mean to Have a Dual Diagnosis?
A dual diagnosis means that a person is battling two or more conditions at the same time. In many cases, this references the presence of both a substance use disorder and a mental health condition. It is possible to have multiple mental health conditions or addictions to numerous substances. Many people don't understand what a dual diagnosis is or why it is necessary to treat both conditions. But, the truth of the matter is that, if a person has a dual diagnosis, specialized treatment is a necessity.
Common Mental Health Disorders That Co-occur With Addiction
What are the Causes of Dual Diagnosis?
Dual diagnosis is caused by both internal and external conditions.
Poor self-image
Long term substance abuse
Growing up in impoverished conditions
Genetic history of mental health disorders
Exposure to drugs, alcohol, or other toxic materials in the womb
Gender (men are statistically more likely to suffer from co-occurring conditions)
Internal Genetic Conditions for Dual Diagnosis
Decades of research strongly suggest a genetic component to the development of addiction and mental health problems. Having a family history that includes depression or addiction increases the chances that you will also suffer from these disorders as well.
Some studies state that individual genes and gene networks appear to function differently in individuals who suffer from addiction, than those who do not. Also, prenatal exposure to drugs, alcohol, or other toxins can contribute to co-occurring disorders later in life.
Environmental Conditions for Dual Diagnosis
Family history of substance abuse and addiction can also be an environmental influence. Children who grow up in houses where people freely use alcohol or other drugs may believe this behavior is acceptable. Mental illness has several influences including exposure to certain drugs or chemicals. Traumatic experiences (including combat) can cause stress on the brain, resulting in mental health conditions such as anxiety disorder.
Growing up in difficult financial situations also makes it more likely for a person to suffer from co-occurring disorders. There may even be a close relationship between poverty, mental illness, and addiction in many cases.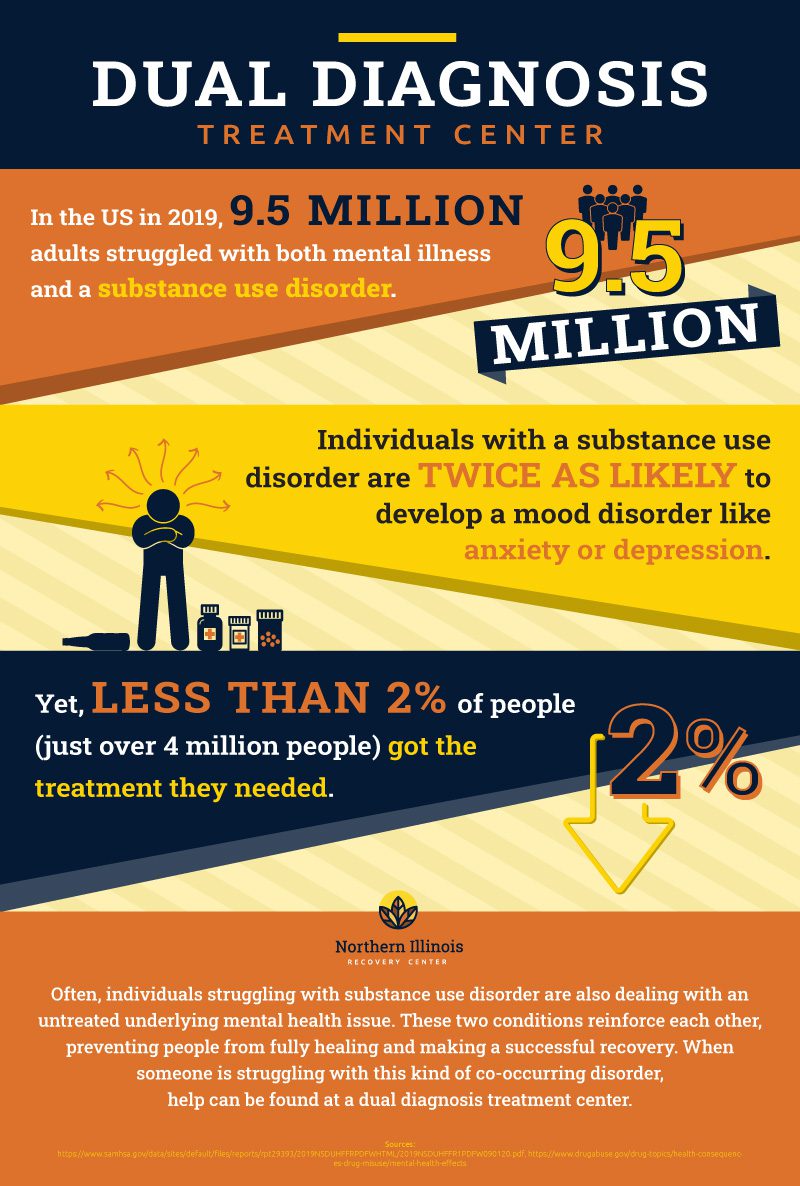 What Is the Difference Between a Dual Diagnosis and Co-Occurring Disorder?
A dual diagnosis means that you meet the diagnostic criteria for two or more conditions that occur at any given time. Co-occurring disorders describe various diseases which may be present along with drug or alcohol abuse. This term is most commonly used to refer to someone who has an underlying mental illness that contributes to their substance abuse. However, a co-occurring condition to substance abuse could also include cancer or another disease.
Which Co-occurring Disorder Develops First?
Which condition came first depends largely on the person suffering from co-occurring disorders. In some cases, a person may have started using drugs or alcohol to manage their mental illness. For instance, some people use these substances to help them manage their depression. They feel like they have to use drugs or alcohol to feel normal. Alternatively, some substances can cause mental illness. For example, long-term cocaine use can lead to anxiety disorders.
Addiction can also lead to a mental health condition, especially if addiction remains undiagnosed or untreated. Long-term drugs and alcohol abuse can cause mental health disorders. For example, extended alcohol abuse can cause anxiety and depression. In order to alleviate the symptoms related to depression and anxiety, someone will continue to abuse drugs and alcohol. This cycle of abuse only exacerbates symptoms making mental health and drug addiction treatment centers more necessary.
How Do You Deal with Dual Diagnosis?
To avoid relapse of either condition, it's essential to seek a dual diagnosis treatment program, such as the one we offer at Northern Illinois Recovery Center.
Many people with co-occurring conditions believe that they can only get treatment for one issue or the other. However, if someone only seeks treatment for one condition, they increase the likelihood of relapse. If they only seek treatment for the mental health condition, their continued substance use may lead to other mental illnesses. Alternatively, the symptoms of their original disease may get worse.
That said, if they only seek treatment for substance abuse, they do not have the tools to manage their mental health symptoms. Without these tools, they may return to using drugs or alcohol. Returning to drug or alcohol use is incredibly risky because if they start using substances at the rates they formerly used, they risk an overdose.
Advantages of Dual Diagnosis Treatment Programs
Dual diagnosis treatment programs offer you the ability to seek treatment for mental health and substance abuse at the same time. Often this leads to better recovery outcomes. Untreated or undiagnosed mental disorders can complicate substance abuse treatment. They also play a role in causing addiction. This makes a dual diagnosis treatment program an ideal choice for those that deal with mental health problems and addiction.
Mental health disorders can include anxiety disorders, depression, mood disorders, personality disorders, and trauma. Nearly 8 million adults struggle with a mental health disorder and a substance abuse problem in the United States, making drug and mental health rehab essential if you are struggling with co-occurring disorders.
During active addiction, it is common to neglect one's medical and mental health needs. Even if you are taking medication for a mental health disorder as prescribed, drugs and alcohol can lessen their effectiveness and worsen your symptoms. A dual diagnosis treatment program specializes in diagnosing and treating both mental health and drug addiction. They can help you manage both conditions during and after treatment.
Treatment Options for Those With Co-Occurring Disorders
Each person requires individualized treatment options to recover from their condition. Therefore we offer a range of substance abuse treatment services and therapies at Northern Illinois Recovery Center. For instance, we offer services such as:
Sometimes, a person doesn't have the time or resources necessary to attend a residential treatment program. Fortunately, a partial hospitalization program offers the next best thing. With this program, they'll attend treatment during the day and return home at night.
As patients move through our treatment programs, they often find that they don't need the extensive treatment that our partial hospitalization program offers. Fortunately, with our step-down program, patients can attend treatment a few days a week. During the rest of the time, the patient can return home to put their strategies into practice in the real world.
Once people have completed our other treatment options, we recommend they attend an outpatient program to receive continued support. These programs allow patients to receive the benefits of therapeutic treatment once or twice a week to ensure that they have the tools they need to stay sober without intensive treatment.
To learn whether our treatment options will work for you, please reach out to our Chicago treatment center today.
What is the Dual Diagnosis Model of Treatment?
The dual diagnosis model of care is an integrated approach that allows the patient to have specialists care for them for each disorder separately but under the same program. Treating people that have co-occurring disorders is complex and it requires experts in mental health and addiction.
Our dual diagnosis treatment program in Crystal Lake, Chicago offers access to medical and mental health professionals. These experts can help you manage your mental health disorder while addressing your substance abuse issues.
Common therapies offered at a dual diagnosis treatment center include:
An essential benefit of a dual diagnosis treatment program is that you can get immediate access to a psychiatrist instead of having to wait for an outpatient appointment. Staff is also well versed in recognizing and treating mental health symptoms that typically worsen during detox.
Common therapies offered at a dual diagnosis treatment center include:
Evaluation and diagnosis of mental health disorders
Assertive community therapy that helps you connect to community-based supports
Access to a psychiatrist
Receive Treatment for Co-Occurring Disorders Today
If you are struggling with a dual diagnosis, it can be difficult to find a dual diagnosis treatment center that offers personalized treatment for both mental health and addiction therapy services. It is crucial to find a drug rehab Illinois that specializes in treating patients with a dual diagnosis, so you can have adequate support in managing your mental health.
When you detox from drugs and alcohol, your body and mind have to learn how to adjust, which can cause your mental health symptoms to decrease. Northern Illinois Recovery Center has a dual diagnosis treatment center that helps support you throughout your recovery. Our Crystal Lake rehab center is located 50 miles from Chicago and provides the highest quality treatment in the Midwest. Northern Illinois offers dual diagnosis treatment programs for people with addiction and co occurring mental illness. Reach out to us today.
Get the help you need at Northern Illinois Recovery!
Addiction Therapy Services at Northern Illinois Recovery