Contact Us Today
Reach out to our specialists today to learn more about Northern Illinois Recovery Center.
Northern Illinois Recovery Center offers comprehensive holistic outpatient treatment at our prescription drug addiction rehab center in Northern Illinois. Our certified specialists can help you move beyond the symptoms of your addiction and into recovery. Let Northern Illinois Recovery help you find a more in-depth way to recover from your prescription drug addiction.
We provide a wide range of treatments to help you find the most effective therapy depending on your particular situation. You can get the help you need from a staff that genuinely wants you to succeed. Therefore, no matter how severe your addiction or how long you have been addicted to prescription medication, there is hope for you at our benzo addiction rehab center Northern IL trusts.
Be Aware of Your Addiction to Prescription Drugs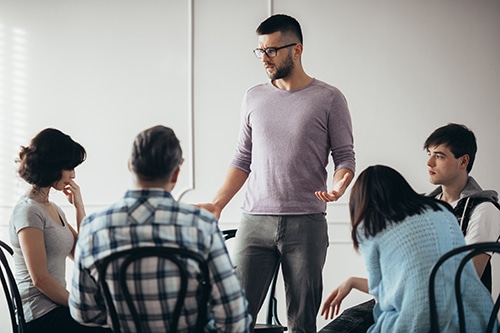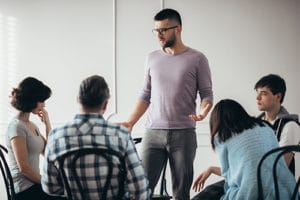 If you suffer from prescription drug addiction, then you may not realize just how addicted you are. However, you need prescription drug addiction treatment programs. The reason for this is that prescription drugs are not viewed the same as illicit street drugs. Also, you may assume that because a doctor prescribed your medication, it must be safe.
Our prescription drug addiction treatment in northern IL can assess your situation to determine the nature of your addiction and also what type of treatment is suitable for your dependency. Our treatment facility offers a serene setting where you can address your addiction in a safe environment with professionals that want you to succeed. We will be there every step of the way to support you as you make your way from addiction to full recovery.
Treatment Services Available in Northern Illinois
Keep in mind that no matter how severe your addiction is, there is always a way out. With the right support, you can get the help you need to get off of the medication and stay off. Some substance abuse treatment services that can help you with your recovery include:
Cognitive behavioral therapy
Individual & group therapy
Dual diagnosis therapy
Relapse prevention
Peer support
How Addiction Treatment Can Help You
You may tend to downplay your addiction to prescription drugs because you may think that you are still functioning just fine with it. In fact, you may be hooked on pain pills, Xanax, or other types of medication for years without realizing you are even addicted.
However, the effects of these drugs can cause physical and mental health problems if you continue your addiction. Therefore, you may already be experiencing some of these effects or symptoms such as:
High blood pressure
Feeling tired all the time
Asking your doctor for a higher dosage every few months
Inability to concentrate on any one thing
Depression, anxiety, or wanting to be alone all the time
Uncontrollable mood swings or agitation for no apparent reason
Other signs include changes in eating or sleeping, trying to find other means for getting your hands on the pills, or seeking prescriptions from more than one doctor. If you experience two or more of these symptoms, then you may want to consider getting treatment at a prescription drug rehab in northern IL.
Call Our Prescription Drug Addiction Rehab Center Today
Are you ready to get off of prescription medication once and for all? Then contact Northern Illinois Recovery Center. Our prescription drug addiction rehab center can provide the support, encouragement, as well as the professional treatment you need to overcome your dependency. To find out more about what treatment is available to you at Northern Illinois Recovery Center, call us today at 855.786.1978 and schedule a consultation.