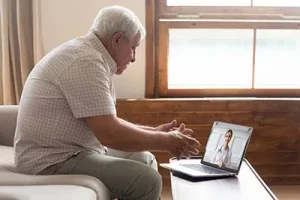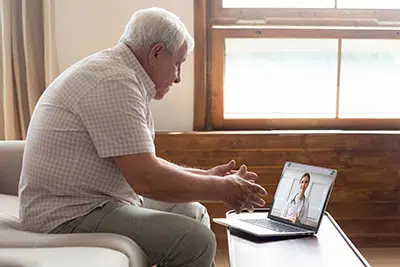 One of the most important aspects of substance use disorder treatment is continuity of care. This means that there is no time when people are left without treatment or access to professional support. People may have barriers that make it difficult or impossible to attend in-person addiction treatment. One way that rehab facilities address this is by offering telehealth treatment programs. Telehealth rehab services became popular during the COVID-19 pandemic, allowing people to get the care they need while remaining at home–something that became crucial. In contrast, people were required to stay at home because of lockdown mandates.
If you are interested in learning more about telehealth rehab services, reach out to the Northern Illinois Recovery Center staff. We offer various programs designed to give you the treatment you need, regardless of where you are. Call today at 855.786.1978 for more information, or fill out an online intake form here.
How the Pandemic Affected Substance Abuse Treatment
Most states had mandated lockdown periods during 2020, leaving people isolated and unable to participate in substance abuse treatment in person. Research shows that many people experienced a worsening of their mental health conditions or substance use disorder because they did not have access to treatment when they needed it the most.
For years, practitioners had been working to offer their treatment programs virtually. During the pandemic, telehealth services quickly became a popular way to offer people the treatment and support they need without leaving home. While telehealth treatment was used out of necessity during the pandemic, many facilities are continuing to offer these services to people who may not attend outpatient treatment in person.
Is a Telehealth IOP Right For Me?
An intensive outpatient program (IOP) is a treatment program designed to give people high-quality, focused substance abuse treatment in an outpatient setting. People often participate in an IOP after completing residential or inpatient care. An IOP is a good choice for medically stable people, does not require detox, and is ready for outpatient treatment's freedoms and responsibilities.
Generally, an IOP requires people to attend treatment several hours a day on three or more days per week. Activities include:
In a telehealth IOP, these activities happen virtually, but the community aspect remains very important. People in a telehealth treatment read and discuss topics, identify strengths and goals, and contribute to the community without leaving home.
What Are the Benefits of Telehealth Treatment?
There are many benefits to participating in telehealth treatment. It is a high-quality, flexible treatment option for people who cannot attend treatment in person or prefer participating from home. Benefits include:
Treatment can be accessed from anywhere–as long as there is an Internet connection, you can participate in treatment
Confidentiality–access care from home, anonymously
No travel time or costs–this is especially important for people who live in rural or outstate areas
Reduced exposure to triggers
Continue to work or care for children
For many people, participating in telehealth substance abuse treatment is an ideal solution that allows them to get the care they need without major disruptions to their schedule. It is also an ideal solution for people who do not live in an area where substance abuse treatment is offered or for people who want to participate in a specific treatment program without traveling there.
Learn More About Telehealth Treatment Options at the Northern Illinois Recovery Center
If you or someone you love requires substance abuse treatment, please reach out to the Northern Illinois Recovery Center staff. We offer a range of treatment programs designed to help you overcome addiction and live a healthy, self-directed life. In addition to our telehealth treatment programs, we offer:
Sober living program
Women's addiction treatment center
Men's addiction treatment center
Young adult addiction treatment center
Addiction aftercare
12 step program
Don't put off life-changing treatment for another day. To speak with one of our admissions counselors, call 855.786.1978 or fill out an online intake form here.