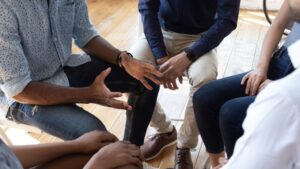 Men's only rehab programs offer care specifically tailored to men struggling with addiction or substance abuse. While all rehab programs aim to help people overcome addiction, gender-specific treatment programs are different in approaching addiction treatment. Men and women face different challenges in treating addiction, including physiological and social differences. For many men, gender-specific rehab is the key to overcoming their addiction and working towards lifelong sobriety.
The master-level therapists at Northern Illinois Recovery Center understand the specific challenges men face with addiction and recovery. Find out how our gender-specific treatment programs can help you or a man you love to receive the life-saving addiction recovery services needed to enjoy sober living. Reach out to one of our client services staff at 855.786.1978.
Gender-Specific Rehab Allows Men to Be Honest
Men may be afraid to admit that they can't control aspects of their life, or they may want to avoid being thought of as a victim of their circumstances. They may struggle with other issues that are different than women's, including:
Anger management
Repressed emotions
Social pressure to "tough it out"
History of violent behavior
Physical problems from drug use
It can be difficult for some men to be honest, open, and candid in a mixed-gender group. Society conditions people to behave in certain ways according to gender, limiting how honest people feel they can be about certain issues. Men's only rehab offers important advantages for successful treatment and recovery from substance abuse. Gender-specific rehab allows men the freedom and comfort to participate in their treatment without fear of judgment or shame. Men are supported by staff who understand the complex role gender often has in addiction. They learn that asking for help is a sign of strength. Support from other men creates a safe environment that fosters healthy decision-making, growth, and recovery.
A Focus on Men's Addiction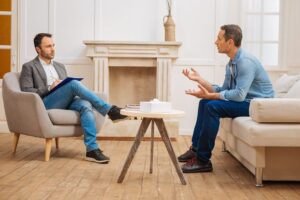 Men in addiction recovery can focus solely on their recovery without distraction. Rather than concern themselves with how others may see them, patients can find comfort and familiarity in being surrounded by other men in the same circumstance. It is a time when they can focus only on themselves and what they need without fear of being unfairly judged. All attention stays focused on the goal of sobriety.
Similarly, the staff at gender-specific rehab programs can focus on men's needs. Good addiction recovery programs tailor their treatment programs to the unique requirements of each patient. Since men often have different recovery needs, the staff must understand what therapeutic approaches are the most successful. The staff can focus only on evidence-based treatments that produce the best results for men and understand what supports to offer for the long term.
Group Therapy for Men
It can be difficult for men to be honest, open, and vulnerable in a group therapy setting because of social norms. In a men-only setting, there is less concern about judgment or discomfort. Many men find it easier to be open and honest when surrounded by men with similar life experiences. Group therapy often takes physical activity, group activities, or other trust-building experiences and traditional group sharing and support.
Group therapy focused specifically on men's addiction issues creates a comfortable environment for men to share, listen, and get support from other men in recovery. It is an important aspect of treating addiction and supporting lifelong sobriety.
Learn More About Addiction Recovery at Northern Illinois Recovery Center
Men have different needs for addiction recovery. Finding the right rehab to treat your specific needs is crucial to recovery and life-long sobriety. At Northern Illinois Recovery Center, we take gender-specific treatment options very seriously and have developed programs and services to meet men's rehab needs, including:
Across all these programs, individuals can take advantage of therapies such as:
If you or a man you love struggles with addiction or substance use, reach out to the experienced staff at Northern Illinois Recovery Center by calling 855.786.1978 to find how we can best support you in your recovery journey.