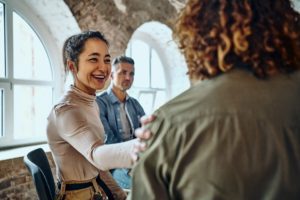 When you reach a state of recovery from addiction, it may feel like no one understands what you've been through. The idea of talking with friends and loved ones about your experiences can seem daunting. How can you expect friends and family to understand why you ended up in your current state? An addiction support group at Northern Illinois Recovery Center allows you to connect with others in recovery who have been in similar circumstances.
What is an Addiction Support Group?
Addiction support groups can be vital in helping individuals who are in recovery. They are meant to give people a safe and supportive atmosphere alongside others who have gone through similar addiction challenges. It is a place where you can share your story and get the kind of encouragement that can make a big difference when you are having a difficult time in addiction recovery.
You can't use support groups as a substitute for therapy for your addiction. However, many recovery centers encourage their clients to find a support group once they leave their respective programs and provide group therapy to become familiar with the process. One popular support group located in nearly every center in the country is Alcoholics Anonymous (AA), designed to help individuals with a history of alcohol abuse.
Affiliate groups like Narcotics Anonymous (NA) and Cocaine Anonymous (CA) provide recovery assistance to individuals with a substance use disorder. Other popular addiction support groups include SMART Recovery and Secular Organizations for Society (S.O.S).
What Are the Benefits of An Addiction Support Group?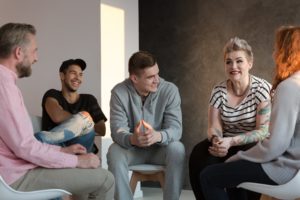 People with an addiction are living with a chronic but treatable condition. While addiction treatment is meant to help individuals stop the behavior that led to substance abuse, support groups help people continue successfully in addiction recovery.
Addiction support groups help individuals learn to take responsibility for their actions while under the influence. They also stress the importance of knowing when you need extra help and having the courage to reach out to someone.
A support group is not meant as a replacement for addiction therapy. It can help with relapse prevention when you encounter a potential trigger. Many people start participating in a support group via an aftercare program after completing an inpatient or outpatient program at a rehab facility. Some start their recovery journey by attending addiction support group sessions and realizing they need more intensive help.
How Does An Addiction Support Group Work?
Groups like AA use a 12-step philosophy where members of the group work on themselves in different phases. A 12-step-based group typically:
Meet regularly, usually once per week
Have a member leading the group sessions
Encourage every member to participate by telling their story, listening to others, or offering encouragement
Pair new members up with a veteran in the group to function as a sponsor
Keep meetings closed to anyone who is not a member, though exceptions can be made for friends and family
Other programs like SMART Recovery do not follow the 12-step model. They incorporate cognitive therapy elements, focusing on helping people change how they think to help manage emotions. Members follow four steps to help them change destructive behaviors that might lead to substance abuse:
Find and maintaining motivation
Manage urges
Learn to control feelings, behaviors, and emotions
Find a balance in life
It's a good idea to research different addiction support groups and find one that works best for you. You may end up trying more than one program before finding one that fits. The goal is to find what works to help you remain free of addiction.
Get Started on Your Recovery Journey at Northern Illinois Recovery Center
Northern Illinois Recovery Center can help you start building the foundation needed to live a sober and healthy life. Find out more about programs and treatments provided by our facility by calling 855.786.1978.