What Is Naltrexone?
Naltrexone is a medication approved by the Food and Drug Administration (FDA) to treat both alcohol use disorder (AUD) and opioid use disorder (OUD). It is viewed as a medication-assisted treatment option. Naltrexone can be prescribed and administered by a practitioner that is licensed to prescribe medications.
It is available as an extended-release intramuscular injectable for alcohol and opioid use disorder. And it is available in a pill form for alcohol use disorder.
REMS, also known as a risk evaluation and mitigation strategy is required for the long-acting injectable formulation. This is to ensure that the benefits of the drug far outweigh the risks.
Naltrexone is taken daily and the extended-release injectable can be administered by a practitioner every four weeks, or once a month. It is usually ReVia or Depade and it can be taken at 50 mg once per day. The injectable extended form of Naltrexone is Vivitrol and it's administered at 380 mg intramuscular once a month.
Naltrexone is considered one of the elements of a comprehensive treatment plan, that includes counseling and other behavioral approaches to provide patients with a whole-person approach. It's not recommended as a MAT option for anyone younger than 18 years of age, or patients experiencing various other health options.
Naltrexone is not addictive, is not an opioid, and doesn't cause withdrawal symptoms without stopping use. It blocks the sedative and europhic effects of opioids such as morphine, codeine, and heroin. Naltrexone blocks and binds opioid receptors, yet it also suppresses and reduces opioid symptoms and cravings. There is no diversion potential or abuse with Naltrexone.
Naltrexone for Opioid Use Disorder
To reduce the risk of withdrawal symptoms that are caused by OUD, patients should wait for at least 7 days after their last use of short-acting opioids. Furthermore, they should wait 10 to 14 days for long-acting opioids, before beginning Naltrexone. When patients are engaging in Naltrexone, they should not engage in any of the following:
Opioids or illicit drugs
Take sedatives
Drink alcohol
Tranquilizers
Other drugs
Patients should notify their practitioner about all the medications they are taking and medication changes while being treated for Naltrexone. Even though the oral formulation blocks the opioid receptors, the long-acting injectable formulation in MAT is FDA approved and requires REMS.
The patients on Naltrexone who relapse after an abstinence period or who discontinue use might have a reduced opioid tolerance. Therefore, engaging in lower dosages or taking the same amount of opioids used in the past can cause dangerous consequences.
Naltrexone for Alcohol Use Disorder
Upon starting Naltrexone for AUD, patients shouldn't be physically dependent on alcohol or other substances. To avoid strong side effects such as nausea and vomiting, practitioners generally wait until after the detox process has passed before administering Naltrexone.
Naltrexone binds to the endorphin receptors in an individual's body and blocks the feelings and effects of alcohol. It reduces alcohol cravings and the amount of alcohol consumed. Once a patient stops engaging in alcohol use, taking Naltrexone assists in maintaining during recovery.
The Naltrexone MAT Treatment will last for three to four months. The practitioners should continue monitoring the patients who are no longer taking Naltrexone.
How Does Low Dose Naltrexone Work?
The FDA-approved weight-loss medication Naltrexone HLC treats patients who are obese and overweight. Low-dose Naltrexone can work to suppress a patient's appetite. The combination of weight loss medications will suppress sugar and carb cravings to stop eating once and for all, plus improve mood. Low-dose naltrexone can help with the following:
Improve mood: The combination of LDN weight loss medications triggers an increase in dopamine and serotonin production, which can decrease stress and anxiety. Therefore, reducing emotional eating.
Improve sleep: Lack of sleep has negative effects on an individual's body's hormonal system and can lead to weight gain. Naltrexone battles this harmful cycle.
Regulate appetite: Naltrexone can assist in normalizing a person's metabolism, and matching appetite to resting energy spending.
Reduce insulin resistance: Naltrexone regulates cellular resistance to insulin, which can lead to weight loss.
Naltrexone for Weight Loss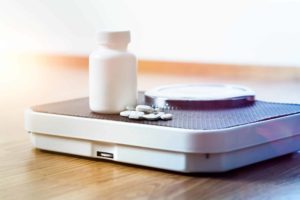 Even though results vary from patient to patient, low-dose Naltrexone makes losing weight easier for individuals who have insulin resistance or are prone to overeating. When it is used in combination with a moderate exercise regimen and healthy diet, low-dose Naltrexone will yield great results. Low dose Naltrexone can also treat severe symptoms of multiple sclerosis, Chron's disease, and fibromyalgia.
It is an opioid receptor antagonist and bupropion is a norepinephrine reuptake inhibitor. The uses for Naltrexone vary from weight loss to chronic pain management. Naltrexone for weight loss has yielded positive results. This medication assists individuals in losing weight by reducing the desire for food. When combined with Bupropion, it can effectively treat obesity in patients.
Bupropion is an antidepressant that induces weight loss through the suppression of appetite. A low dose of Naltrexone blocks an individual's hunger signals to the brain, and the body won't feel the need for food. Eventually, the suppressed hunger will become a habit, and the individual will feel forced to make dietary changes. The other ways that Naltrexone for weight loss occurs:
What Was Naltrexone Originally Intended to Treat?
Naltrexone was originally intended to treat narcotic drug addicts to stay off of narcotics. It was approved in 1984 by the FDA. It was first used for preventing various substance abuse with addiction potential. Alcohol, tobacco, and painkiller addictions have been treated with this drug.
The mechanism in which a person can manage these addictions might be the same in which it helps manage eating habits. Since Naltrexone is an opioid antagonist, it might work by affecting the reward system and various other systems to influence body weight and food intake.
In a study on bupropion and Naltrexone combination, medication can help reduce brain activity in several areas associated with food cravings. The areas of the brain that showcased decreased activity are associated with interoception (sensation of being hungry), saliency attribution (relative importance of food), and craving.
In a double-blind placebo-controlled study, 20 participants and the volunteers were given pasta and then asked to stop eating on an occasional basis to provide feedback about their appetite. Naltrexone reduced the pleasantness of the food and the eating rate. Once the participants took Naltrexone, they significantly ate less than when they received a placebo and without a pill.
Naltrexone is typically taken at night and might provide additional benefits that can assist with weight loss. It has been shown that for patients with chronic pain, Naltrexone can improve sleep. A study with 68,183 women over 16 years of age found that engaging in less than five hours of sleep every night produces a greater risk of weight gain.
The Combination of Naltrexone/Bupropion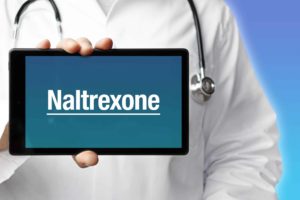 An FDA-approved drug named Contrave is indicated for individuals with a BMI over 30, which is considered obese. It is used in patients with a BMI between 27-30 who have weight-related comorbidities such as diabetes or hypertension.
Studies have shown that the combination of these two drugs, when utilized as a part of an exercise/diet program, produces weight loss than placebo with diet and exercise.
The results of several studies show that the combination of Naltrexone and Bupropion is effective. Patients reported they control and manage their eating better after utilizing this combination. It showed weight loss results towards the end of the studies.
Both drugs affect the production of pro-opiomelanocortin, also known as POMC. It is a precursor protein that can affect various essential biological processes. POMC is divided to make other proteins have vital roles in appetite regulation.
Bupropion and Naltrexone for weight loss combination should be adjusted weekly for up to four weeks. In the first week, the patient will take one dose every morning and none at night. The process will adjust until the patient is taking two doses in the morning and two at night.
Medically Supervised Weight Loss
A weight loss plan that can include weight loss medications or a low-calorie diet should be supervised by a trained healthcare professional. Several obese patients have health issues related to their weight like hypertension and diabetes. Studies have shown that weight loss medications are effective and safe for patients with obesity-related health conditions.
Naltrexone has been used for several years and healthcare professionals are confident in prescribing it as an off-label due to the low toxicity. There are several dosages of Naltrexone that are combined with bupropion are available for use.
Side Effects of Naltrexone
When individuals take Naltrexone for weight loss, numerous side effects can occur. It's recommended to consult the health care provider if the dose needs to be adjusted or the medication needs to be changed. The common side effects of Naltrexone include:
Decreased appetite
Trouble sleeping
Cold symptoms
Muscle cramps
Painful joints
Sleepiness
Dizziness
Toothache
Headache
Vomiting
Nausea
Serious Side Effects
Severe reactions at the site of the injection
If there is tissue death, surgery may be required
Lumps, swelling, or the area feel hard
Blisters, open wounds, or scabs
Intense pain
Hepatitis or liver damage is possible
Stomach area pain lasting more than a couple of days
Yellowing of the whites of the eyes
Tiredness
Dark urine
Serious allergic reactions
Swelling of eyes, tongue, mouth, or face
Wheezing or trouble breathing
Feeling faint or dizzy
Depressed mood
Pneumonia
Chest pain
Skin rash
Naltrexone for Weight Loss Addiction at Northern Illinois
Here at our treatment center, we offer help for several types of substance use disorders, including opiate and opioid addiction. For over 20 years, we have been helping our clients heal long-term. Naltrexone for weight loss can affect an individual's health. We have several treatment programs that can suit your needs. Let's get started on the healing process.