More than 20 million Americans were diagnosed with substance use disorders in 2022. Addiction is a mental illness, and substance use can have devastating consequences for patients and their families. If you're trying to help a loved one with a substance use disorder, you may be feeling frustrated, anxious, and exhausted. You might be wondering how to talk with your loved one and how to help him or her accept treatment.
People with substance use disorders go through a process of change before, during, and after treatment. This guide will help you learn more about the stages of change and the trouble with denial. It will also help you support your loved one and it may answer any questions about addiction treatment you may have during their journey to sobriety.
What Are the Stages of Change?
During treatment for substance use disorders, clients typically go through six stages of change. Psychologists have categorized the stages using the following framework:
Why Is Denial in Addiction So Common?
Denial is a coping mechanism that prevents people from feeling fear or anxiety, and it is especially common in people with substance use issues. People who are struggling with substance use may be afraid to change, and they often struggle with feelings of shame and worthlessness.
The idea of confronting these feelings could be terrifying, especially if individuals with substance use issues believe that there is a stigma associated with getting treatment. As a result, clients are likely to deny that they have a problem. Some research suggests that substance use impairs a person's sense of self-awareness and insight, and this impairment can result in denial.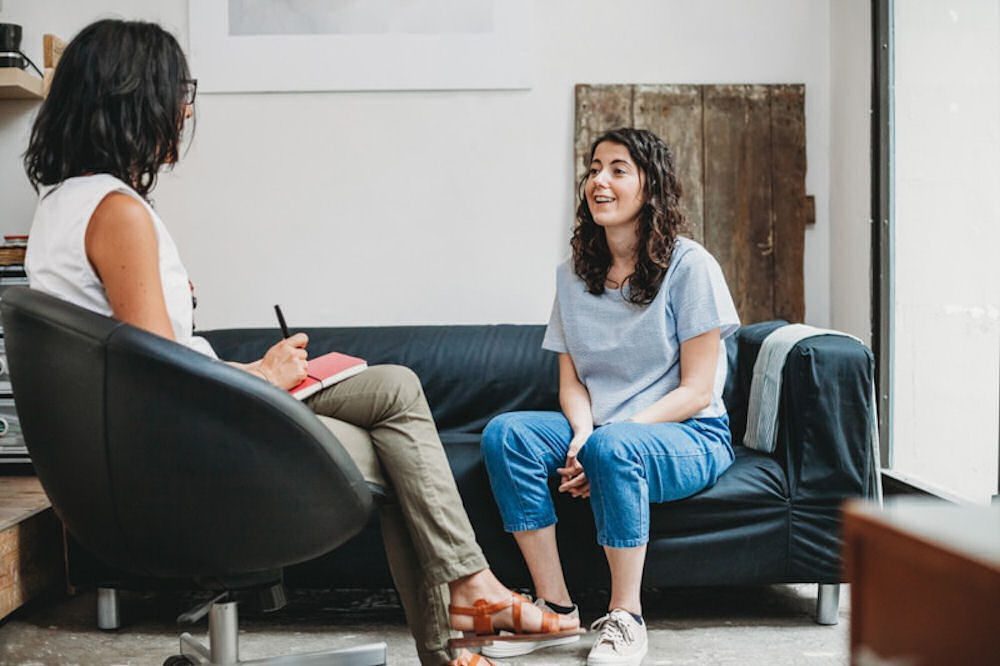 What Are Some Examples of People in Denial About Their Addiction?
People in denial often try to rationalize their behavior. For example, they may minimize the severity of their substance use. They could have unrealistic beliefs that they won't experience any negative consequences from their behaviors, and they might use avoidance mechanisms. In addition, people in denial could overestimate or underestimate their abilities to control their substance use.
Here are some common phrases you may hear from individuals who are in denial:
I only do it two nights a week.
It's not a big deal.
I've never been violent, so I don't have a problem.
I'll just have one drink.
I'll go to the party, but I won't drink or do drugs.
I just do it to relax.
I've got everything under control.
I can stop when I want to.
It doesn't affect anyone else.
It's just a social thing.
How Should I Talk to an Addict in Denial?
To talk with an addict in denial, experts emphasize that it's important to begin with a desire to support and help the person.
In addition to considering what to say to an addict in denial, it's essential to plan the timing of the conversation carefully. Choose a time when you're not feeling angry or judgemental. If you can, try to pick a time when the other person is likely to be relaxed and calm. Most importantly, make sure that you avoid having this conversation during a time when the other person is impaired or under the influence. Wait until they're sober to start this chat.
What Should I Say to an Addict in Denial?
When you're planning an intervention or what to say to an addict in denial, consider following this outline:
What Should I Avoid Saying to an Addict in Denial?
When you talk with an addict in denial, it's helpful to avoid using accusatory language, shame and blame. Substance use disorders are mental illnesses; they aren't character flaws. If a person with substance use issues feels that he or she is being accused, shamed or blamed because of addiction, this could push the person away and prevent him or her from seeking treatment.
To avoid language that could be inflammatory, you may want to use "I" statements. You can use these to talk about how the person's substance use makes you feel. For example, you could say, "I'm really worried about you." When you start your statements with "I," the person is less likely to feel ashamed or alienated during the conversation.
How Can I Help Someone With Substance Use Issues Find Treatment?
When you're trying to help a person with substance use problems find treatment, it's important to seek out professional care. While community support meetings can be very beneficial for people in recovery, most individuals will require inpatient or outpatient rehabilitation to make a full recovery. For example, they may need medication to help with withdrawal and maintenance, and they might need to have several types of psychotherapy.
If you're helping a person with substance use in the Illinois area, you may want to consider the treatment options at Northern Illinois Recovery Center. We provide treatment for alcohol and drug addiction, and we have sober-living homes that clients can use after they complete their treatment. To learn more about our services, contact us by phone or online. We can help you with insurance verification and admissions, and we're honored to be part of your journey.