What Is Rubbing Alcohol and What Are Its Uses?
Rubbing alcohol is a solution that typically contains about 70% isopropanol and 30% water. Isopropanol or isopropanol alcohol is a colorless and transparent liquid with a slightly bitter taste and fruity odor. Rubbing alcohol is used in a wide variety of commercially available products like the following:
Pharmaceuticals
Hand sanitizers
Disinfectants
Aftershaves
Cosmetics
Sanitizers
Antifreeze
Cleaners
Solvents
Lotions
Inks
The ingestion of isopropanol is the most common toxic ingestion reported to Poison Control Centers in the United States each year.
Drinking rubbing alcohol is dangerous and even fatal. Rubbing alcohol is a powerful cleaning solvent and can be very harmful if ingested. A small amount of rubbing alcohol can cause alcohol poisoning and death.
Symptoms of alcohol poisoning include vomiting, confusion, seizures, and slow or irregular breathing. If you or someone you know has consumed rubbing alcohol, seek medical attention immediately.
Drinking rubbing alcohol often occurs by people who are addicted to alcohol and are desperate for a fix.
Why Would Someone Be Inclined to Drink Rubbing Alcohol?
People would be inclined to drink rubbing alcohol because when rubbing alcohol is consumed. After all, it's stronger than ethanol. Ethanol is the intoxicating agent; produced by distillation and sugar fermentation. Typically found in the most common alcoholic beverages.
People drink rubbing alcohol to engage in intoxication, or in a few cases, harm themselves. When people struggle with alcoholism, they might turn to substances such as rubbing alcohol to reach a specific level of intoxication.
Sometimes, rubbing alcohol is substituted for ethanol because of its widespread availability and much lower cost. For instance, a 16-ounce bottle of rubbing alcohol costs more than $1.00. Rubbing alcohol is available for purchase anytime at a 24-hour drug store.
It's important to remember that rubbing alcohol is more potent than ethanol and quickly absorbed into a person's bloodstream. However, these characteristics can allow a person to become intoxicated more quickly.
These characteristics are also responsible for the extreme dangers and risks of drinking rubbing alcohol.
When a person is drinking rubbing alcohol, they are at a much higher risk of developing alcohol poisoning; this is because the body processes rubbing alcohol much more quickly than ethanol, leading to a rapid and potentially fatal buildup of toxins in the bloodstream.
There is no safe amount of rubbing alcohol to consume. Any amount can be dangerous and even life-threatening.
How Dangerous Is It to Consume Rubbing Alcohol?
It is dangerous to consume rubbing alcohol. When it comes to an individual drinking rubbing alcohol, the digestive tract suffers the most if the person swallows a small amount.
The individual's body metabolizes abnormally high alcohol levels into acetone. If rubbing alcohol is consumed to intoxication, it leads to organ damage. Since rubbing alcohol is a central nervous system depressant, side effects can include:
Headaches
Dizziness
Inebriation
Also, since rubbing alcohol is a gastrointestinal irritant, it can cause:
Vomiting blood
Abdominal pain
Nausea
Alcohol Percentages
The percentage of alcohol in beer, wine, and liquor varies. For example, beer typically contains between 3-6% alcohol (hard liquor) is up to 40% alcohol. Rubbing alcohol generally contains around 70% alcohol.
What Is Alcohol Poisoning?
Alcohol poisoning occurs when someone drinks a large quantity of alcohol in a short period. It can happen intentionally (binge drinking) or unintentionally ( drinking rubbing alcohol). Side effects include:
Slow or irregular breathing
Loss of consciousness
Low body temperature
Hypothermia
Vomiting
Seizures
Confusion
Drinking a small amount of rubbing alcohol can easily lead to alcohol poisoning since the concentration of alcohol is so high. If left untreated, alcohol poisoning can lead to coma and death.
What Are Treatments for People Who Are This Far Into Addiction?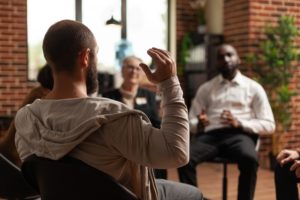 There are several treatment options for people who are far into alcohol addiction and begin drinking rubbing alcohol, such as:
Medical applications and devices used to treat withdrawal symptoms or deliver skills training
Evaluation and treatment for co-occurring mental health issues such as anxiety and depression
Long-term follow-up to prevent relapse
Behavioral counseling
Medication
There is a range of care with every tailored treatment program; the follow-up options are critical to success. Treatment should include both mental and medical health services. Follow-up care options are family-based and community recovery support options.
Most people can recover from alcohol addiction with the proper treatment and support. However, some people might need more intensive treatment to get back on track. Intensive treatment lasts a few weeks or months and can include inpatient or outpatient care. In some cases, people might need to stay in a residential treatment facility for an extended period.
Rubbing Alcohol Addiction Awaits at Northern Illinois Today
If you or a loved one are struggling with an addiction to rubbing alcohol, please reach out for help. Drinking rubbing alcohol can be deadly; our qualified treatment professionals can help.
There are many resources available to assist you in finding the treatment that you need. Remember, you are not alone in this fight. People care about you and want to see you recover. Seek help today and begin your journey to a better tomorrow.