If you or a loved one is battling a substance abuse problem or an addiction, finding out how to take the first steps towards recovery and sobriety can be very difficult. Trying to quit drugs or alcohol while dealing with a co-occurring disorder is especially hard. This leads to needing a dual diagnosis treatment center. A co-occurring disorder is a mental health condition that occurs in addition to addiction. This means that you are struggling with a substance abuse issue while suffering from a mental health disorder.
Advantages of a Dual Diagnosis Treatment Center
Mental health disorders can include anxiety disorders, depression, mood disorders, personality disorders, and trauma. Nearly 8 million adults struggle with a mental health disorder and a substance abuse problem in the United States, making a dual diagnosis treatment center essential if you are struggling with a co-occurring disorder.
A dual diagnosis treatment center offers you the ability to seek treatment for mental health and substance abuse at the same time. Often this leads to better recovery outcomes. Untreated or undiagnosed mental health disorders can complicate substance abuse treatment. They also play a role in causing addiction. This makes a dual diagnosis treatment center an ideal choice for those that deal with mental health problems and addiction.
What is a Co-Occurring Disorder?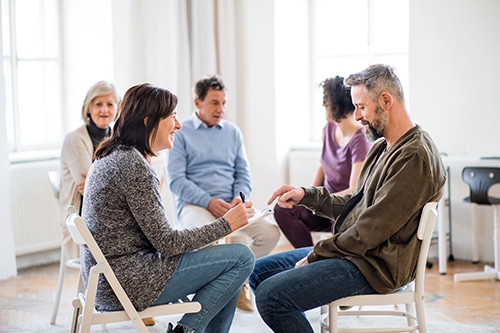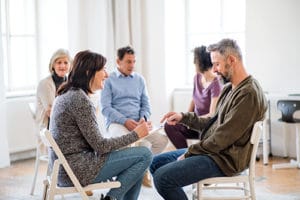 A dual diagnosis means that you meet the diagnostic criteria for a substance abuse disorder and a mental health disorder.
Some of the most common mental health conditions present in dual diagnosis patients include:
Generalized anxiety disorder and panic disorders
PTSD and trauma-related disorders
Depression
Mood disorder, such as bipolar disorder
Personality disorders, such as borderline personality disorder
Mental health conditions can lead to drug addiction, especially if they remain undiagnosed or untreated. Drugs and alcohol can be used as a way to cope with symptoms caused by mental health disorders. For example, increased anxiety can make it more likely that you will experiment with drugs or alcohol in order to alleviate negative feelings. Drugs and alcohol create feelings of euphoria, which can be a way to self-medicate if you suffer from depression.
During active addiction, it is common to neglect your medical and mental health needs. Even if you are taking medication for a mental health disorder as prescribed, drugs and alcohol can lessen their effectiveness and worsen your symptoms. A dual diagnosis treatment center specializes in diagnosing and treating both mental health disorders and addiction. They can help you manage both conditions during and after treatment.
Dual Diagnosis Services
A dual diagnosis treatment center Northern Il offers provides access to medical and mental health professionals that can help you manage your mental health disorder while addressing your substance abuse issues.
Common therapies offered at a dual diagnosis treatment center include:
Evaluation and diagnosis of mental health disorders
Cognitive behavioral therapy
Family therapy
Assertive community therapy that helps you connect to community-based supports
Access to a psychiatrist
Individual therapy with counselors and licensed therapists
An important benefit of a dual diagnosis treatment center is that you can get immediate access to a psychiatrist instead of having to wait for an outpatient appointment. Staff is also well versed in recognizing and treating mental health symptoms which typically worsen during detox.
Are You Struggling with Dual Diagnosis?
If you are struggling with a dual diagnosis, it can be difficult to find a dual diagnosis treatment center that offers personalized treatment for both mental health and addiction therapy services. It is crucial to find a rehab that specializes in treating patients with a dual diagnosis, so you can have adequate support in managing your mental health. When you detox from drugs and alcohol, your body and mind have to learn how to adjust, which can cause your mental health symptoms to degrade.
Northern Illinois Recovery Center has a dual diagnosis treatment center that helps support you throughout your recovery. If you would like to learn more about our treatment programs, including our dual diagnosis program, call us today at 855.786.1978">855.786.1978.